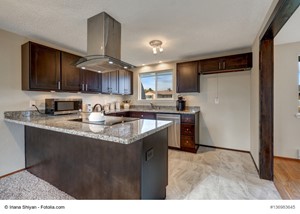 Before you sell your home, you may wonder if there are any areas that you can improve on before putting the home on the market. Kitchen renovations have one of the highest return values of any changes that you make to your home. It's worth investigating what areas of the room could use some improving. Some of these upgrades don't even require you to start a construction project.
Clear Off The Counters
You don't even have to replace the countertops to add some value to your home. Making it appear as if your counters have the maximum amount of space before you show the home can really impress potential buyers Simply clear your counter, clean it, and make any small repairs that you notice may need to be done. If you have time and the budget, you can always replace tired old countertops. Simply showing that your counters have more room can really make a big difference.  
Add A Backsplash

 
You can add a backsplash or update your existing one in order to breathe some life into your kitchen. Make sure that the tiles you choose coordinate with the theme of the kitchen. This is purely cosmetic but a kitchen with a fresh backsplash sells much faster than a tired, worn looking kitchen backslash, or even a kitchen without a backsplash at all.
Add Some Technology To The Kitchen
Buyers like simplicity and convenience in their potential homes. Consider adding some technology to the kitchen like USB outlets and smart appliances. If you can save a buyer from needing to upgrade their appliances and meet their 21st century needs at the same time, your home will be a very attractive sell. There are few things more enticing to buyers than brand spanking new appliances in the kitchen! These updates will surely add value to your home before you sell.   
The Floor

 
While floors offer the least return for your investment, buyers don't like looking at old, dirty floors! Take the time to clean up your floor and replace it if needed. It's not a difficult do-it-yourself project and can really make your kitchen look more attractive.       
Clean The Cabinets
Buyers are very into looking at every nook of the home they may potentially buy. That means if you have nice looking cabinets, you can have a leg up as a seller. Whether you need to clean and stain the wood on your cabinets, add a fresh coat of paint, or do a larger project and replace the cabinets altogether, there are plenty of ways that you can give your cabinets a fresh look, drawing attention to this part of the room. Be sure that whatever you do to your cabinets will bode well with the style of the kitchen.