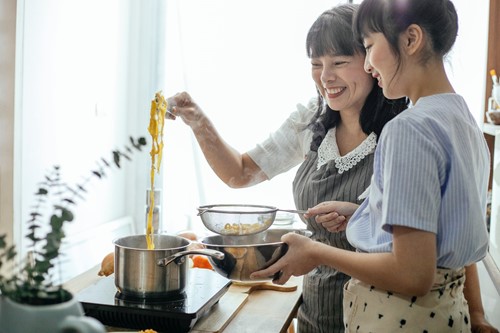 When everyday people hear the term "galley kitchen" their minds typically imagine the lower deck of a ship. To say this ranks among the top galley kitchen ideas misconceptions would be something of an understatement.
A galley kitchen design utilizes a narrow space in a home or commercial building that positions appliances, storage, and other amenities on opposite walls. Homes with limited square footage often adopt galley kitchen ideas and layouts to maximize living space. However, an increased number of homeowners recognize that transforming small and narrow spaces such as a hallway into a galley kitchen delivers significant benefits. These are reasons to consider galley kitchen ideas such as hallway conversions.
A Hallway Galley Kitchens Increases Family Living Space
It's not uncommon for everyday people to view galley kitchen ideas as necessities for homes that lack enough square footage for a traditional cooking space. That misconception misses the mark in terms of overall family living space usage.
For example, an open floor plan allows the free flow of movement and makes the home seem larger. While open floor plans offer substantial benefits, they tend to utilize the total square footage informally and inefficiently. Combining two or more traditional living spaces into one giant room requires foot traffic pathways that amount to under-used square footage.
By contrast, a galley kitchen maximizes the effectiveness of traditionally under-used areas. In this case, a hallway converted to a galley kitchen may free up an entire room for alternative usage. Homeowners may gain an office, formal dining room, playroom for children or a bedroom for growing families. These are the type of galley kitchen ideas that sometimes require people to think outside the box.
Galley Kitchens Increase Cooking Efficiency
Imagine you are preparing a three-course meal in a traditional kitchen. In all likelihood, you will walk from the refrigerator to a countertop to chop veggies and prepare the salad several times. You may also go in search of a large salad bowl, cutting board and utensils. Now you labor over the main course, possibly preparing poultry, beef or a vegan option. This will likely transpire at another location and, again, you will make multiple trips. The same holds true for any dessert item.
By contrast, a hallway galley kitchen positions the vast majority of food preparation items in an arm's length distance. The design typically involves counter space on either side and appliances such as a stove, refrigerator, and coffee maker within one or two steps. At the end of creating a delicious meal for family and friends, home chefs expend significantly less energy in a converted hallway galley kitchen.
Hallway Galley Kitchens Keep the Mess Out of Sight
Homeowners make significant investments into expansive kitchen cabinets largely because they want the space to look neat and tidy. Those with open floor plans only increase the stress and anxiety of visitors seeing dirty dishes and stovetops that haven't yet been cleaned. Converting a hallway into a galley kitchen can nearly eliminate this problem. Because under-used hallways are like roads to and from destinations in a home, there's no reason for visitors to spend time there. The old adage, "out of sight, of mind" holds true for hallways and other galley kitchen ideas.
Transforming a hallway or another narrow space often increases the peaceful enjoyment of the overall home. Friends and family members not seeing the mess in your kitchen is just another perk.